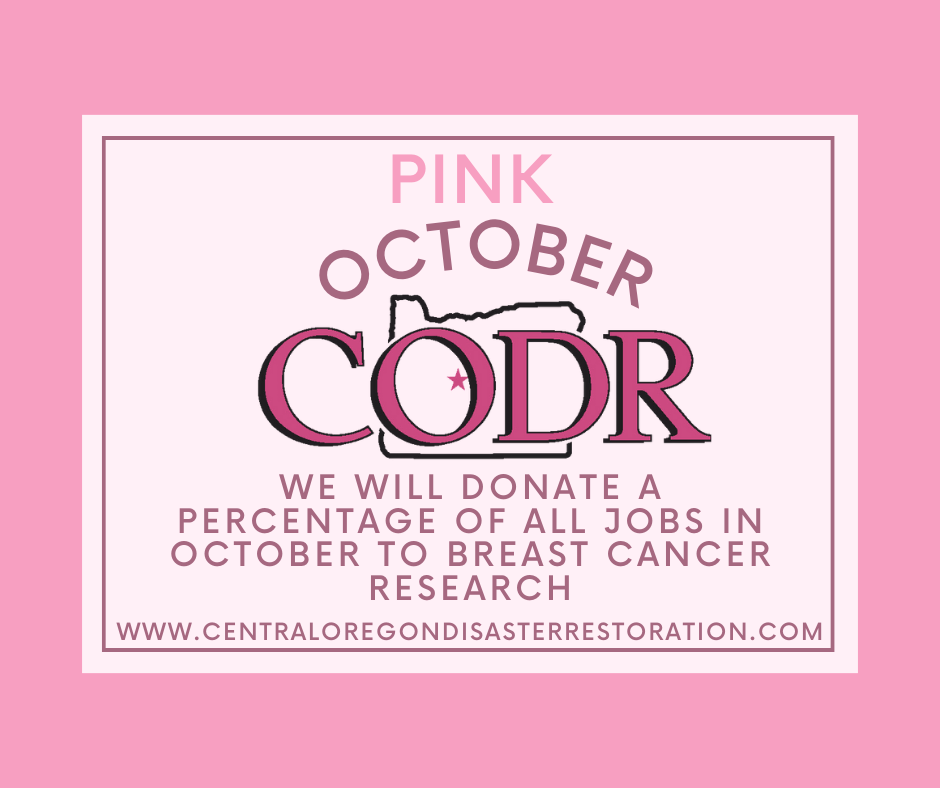 Hey there, we're thrilled to share some exciting news with you! Here at CODR we have decided, once
again, to do something truly special. We're dedicating a percentage of all new jobs in October to support
breast cancer research, and we couldn't be more excited about it.

A Month of Giving: Why It Matters to Us

As someone who's seen the impact of disasters on homes and businesses, we know how vital our work
is. We specialize in helping homeowners and businesses bounce back from water, fire, smoke, and mold
damage. Additionally, we provide essential asbestos testing and abatement services to ensure safe living
and working environments. But this month, we want to do more than just restore properties; we want
to restore hope and health.

Why Breast Cancer Research?

Breast cancer is a disease that touches so many lives, and the need for funding and research to find a
cure is critical. We believe in giving back to our community and contributing to a cause that affects
millions of individuals, families, and communities across the nation.

The Heart of Central Oregon: Our Community Spirit

Here in Bend and throughout Central Oregon, we have a strong sense of community. We've seen how
coming together can make a tremendous difference, and that's why we're taking this step. We hope that
our initiative will inspire others in our community to join us in supporting breast cancer research.

How You Can Make a Difference

If you or someone you know is facing water, fire, smoke, or mold damage, or if you require asbestos
testing and abatement services, please consider Central Oregon Disaster Restoration this October.
When you choose us for your restoration needs, you're not just getting top-notch service; you're
contributing to a cause that's close to our hearts.

Additionally, you can help by spreading the word about our initiative. Share this news with your friends,
family, and colleagues, and let's work together to create awareness and generate funds for breast
cancer research.

At Central Oregon Disaster Restoration, we're more than just a restoration company. We're members of
a vibrant and caring community, and this October, we're making a personal commitment to support
breast cancer research. With our expertise in handling water, fire, smoke, and mold damage, as well as
asbestos testing and abatement, we're here to serve you and make a real impact in the fight against
breast cancer.

Join us in this month of giving, and together, we can restore not only properties but also hope, health,
and the promise of a brighter, cancer-free future. Thank you for being a part of this meaningful journey
with us.